The Metro Playa Vista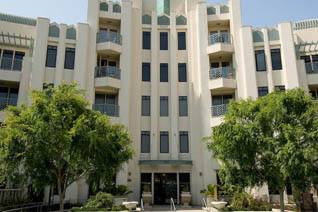 5625 Crescent Park West
Playa Vista, CA 90094
For a complete list of available homes and floor plans in The Metro Playa Vista, please call (310) 754-8144 or
email erikf@playavistaproperties.com
The Metro is located in the upscale Crescent Park District. The Metro building design is inspired by 1930's and 1940's Art Deco architecture. The building is very classy and chic which is reminiscent of what a hotel would look like in the 40's. The main entrance is very beautiful with many trees that lead to the five-story penthouse tower.
The Metro is ideal for single families because the building is located in a cul-de-sac to ensure safety and privacy. Even with all this privacy, there are some units from which you can see the Hollywood Sign and Century City.
The Metro was built in 2003 with approximately 122 units. Most of the homes at The Metro offer up to three bedrooms and two and a half baths which includes a downstairs den.
The Metro amenities include: clubhouse, conference room, elevators, gym, pool, spa, and security.
For more information on The Metro Playa Vista as well as other Playa Vista listings for sale including condos, town homes, and single family homes you can receive an up to the minute list by calling (310) 754-8144 or emailing: erikf@playavistaproperties.com