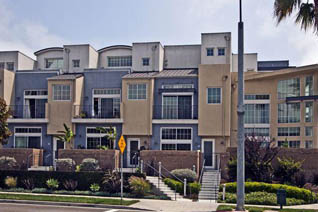 Bridgeway Mills Townhomes
5300-5400 Playa Vista Dr.
Playa Vista, CA 90094
The Playa Vista community is located just East of Playa del Rey, South of Marina del Rey, Southwest of Culver City, and North of Westchester.
For a complete list of available homes and floor plans in Bridgeway Mills Playa Vista,
please call (310)754-8144
or email erikf@playavistaproperties.com
Bridgeway Mills Playa Vista homes are ideal for young artists and business professionals because of the SoHo, New York or San Francisco loft feeling. These homes are conventional and convenient since it is close to Downtown LA where you can find the art district and fortune 500 companies.
Bridgeway Mills Playa Vista is located in the Fountain Park District adjacent to Ballona Creek. These 3 story townhomes were built in 2005-2006. Bridgeway Mills has 80 luxury townhomes with 21-foot high ceilings, spacious patios, hardwood floors, designer appliances, fireplaces, and towering windows. The townhomes in Bridgeway Mills Playa Vista have huge windows for direct natural sunlight which is desired by most artists. Bridgeway Mills townhomes have up to two-bedrooms ranging in size from about 1,479-2,450 square feet.
Bridgeway Mills amenities include a wonderful clubhouse, a gym, pool, security, and a tennis court.
For more information on Bridgeway Mills Playa Vista as well as other Playa Vista listings for sale including condos, town homes, and single family homes you can receive an up to the minute list by calling (310) 754-8144 or emailing: erikf@playavistaproperties.com